Episode: 2
Quest Tab: Tower
Wiki page:
https://wiki.pioneer2.net/index.php?title=Twilight_Sanctuary#Enemy_Counts
THIS QUEST IS NO LONGER BEING UPDATED!


Welcome to the Twilight Sanctuary​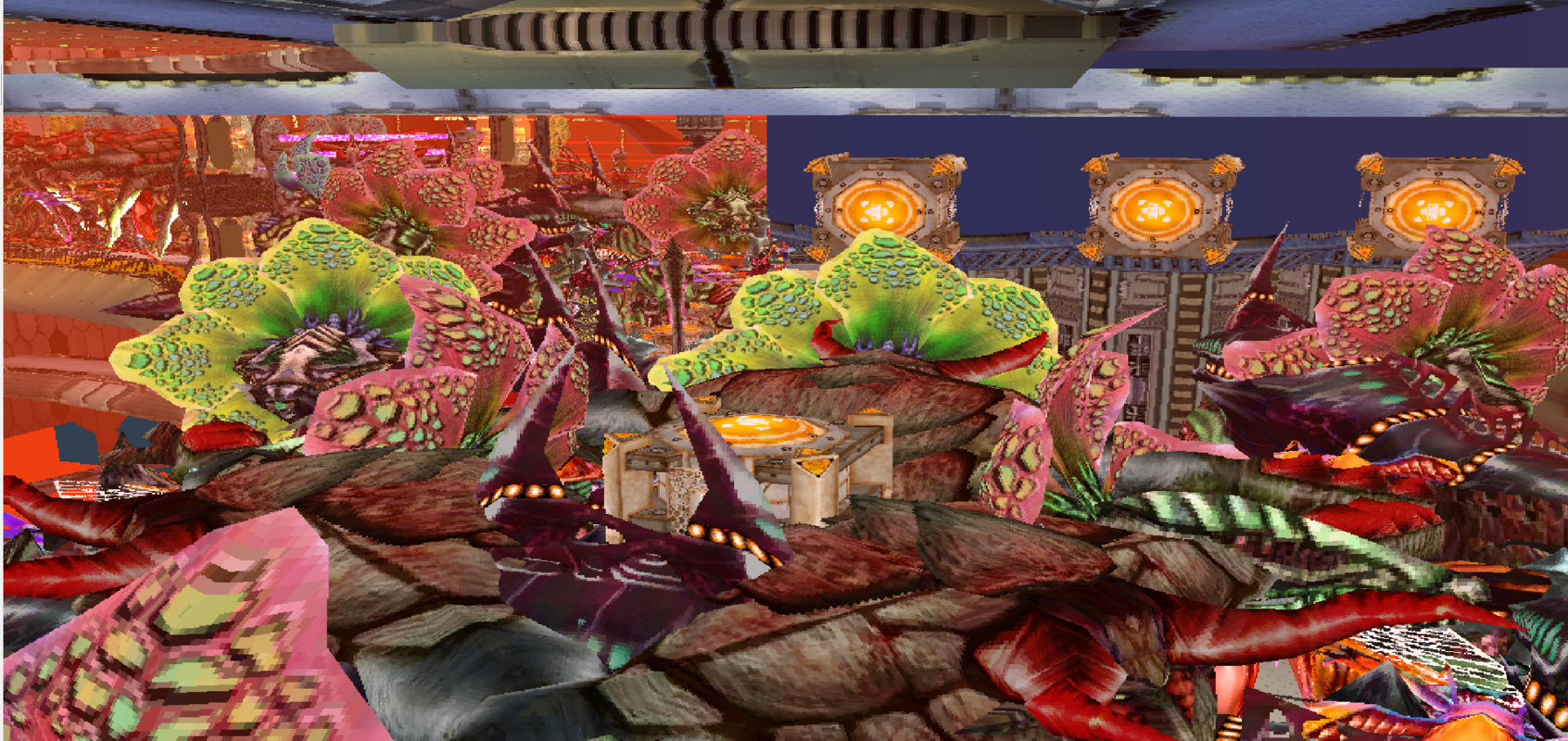 This isn't an easy quest. It's also my first one that I've ever made with the highly thanked help/guidance of Ender.
It may still have some bugs in it. Do report to me anything strange/broken in the quest mechanic wise!
THESE COUNTS ARE FOR VERSION 1.5

Jungle East:
10 Merillia
15 Ul Gibbon
9 Zol Gibbon
24 Gee
10 Meriltas
9 Sinow Berill
5 Sinow Spigell
1 Mericarol


Tower:
125 Del Lily
88 Ill Gill
74 Recobox
50 Delbiter
37 Mericarol
25 Merikle
20 Mericus
35 Gibbles
42 Gi Gue


Total:
24 Gee
10 Merillia
10 Meriltas
15 Ul Gibbon
9 Zol Gibbon
9 Sinow Berill
5 Sinow Spigell
125 Del Lily
88 Ill Gill
74 Recobox
50 Delbiter
38 Mericarol
25 Merikle
20 Mericus
35 Gibbles
42 Gi Gue

Monster quantity: 564 total
Version 1.0:
- Fixed softlocking at NPC post quest delivery speech.
- Fixed first blue warp in Jungle East going to Jungle North.
- Fixed a missing spawn in Jungle East.
- Fixed a typo spotted in the quest giver's delivery speech.
- Adjusted the targetable object which breaks the rocks to open back path.
- Added a few boxes in small Jungle East alcoves which were previously empty.
- Adjusted all Gibbon and Delbiter parameters. They no longer rapidly spam jumps/techs and confuse roar respectively.
- Fixed a threaded switch in last floor of tower. It no longer can spawn during the last wave.
- Fixed an issue where you get a message from the quest giver upon returning to Pioneer 2.
- Repositioned the Mericarol on floor 4 to stop it from spitting through the divider (Let me know if this still happens).

Version 1.1:
- Added lighting to Pioneer 2 as well as spawning NPCs after final wave is clear.
- Added a small waiting point after final spawn before delivering quest clear message.
- Many Recobox Y values have been adjusted as some Recons were difficult to target.
- The giant caves smashers on Floor 9 have had their damage value decreased.
- More waves/monsters were added to some floors for better scaling and progression.
- removed Saws on Floor 9.
- Moved some monsters around for better positioning.
- Various Meri variants have had their places swapped.
- Adjusted Meseta rewards:
Normal: 5000 Meseta
Hard: 7000 Meseta
Very Hard: 12000 Meseta
Ultimate: 70000 Meseta
- Floor 8 Mericarols that spawn with Gi Gues had their delays significantly reduced to flow the threaded spawns better.
- Adjusted the height of the hallway walls of floor 8.
- Count-Up timer has been added to the quest.
- On Floor 9, when the twilight fog appears, a warp console will be summoned by heal rings which warps you near the other warp console.
- There are now 3 heal rings on Floor 9. They are stacked on top of each other so it may only look like one. There are three.
- Adjusted several delay times.

Version 1.2:
- All the boxes in the second room of Jungle East now appear after jungle is clear.
- Added door marks on minimap where laser fences are set.
- Repositioned very few spawns.
- Added bonus Meseta in Ultimate Mode Only and is a surprise. You can earn this bonus Meseta by clearing the whole quest without a single death in the party. Leo gives this reward out.

Version 1.3:
- Fixed a problem with a threaded spawn on floor 8 not working the way it's supposed to. Final wave is spawning during a previous when that shouldn't happen.
- Adjusted a few Recobox positions on floor 6 as their hitboxes were slightly out of of bounds.

Version 1.4:
- Spawn reworks have been done to Floor 7. This includes the removal of a few Recoboxes and the addition of a few monsters to waves as well as new waves in general.

Version 1.5 & 1.5+ (Current - Full completion):
- Finished quest: Twilight Sanctuary will no longer be getting updated.
- Jungle East is now lit upon quest completion.
- Floor 8 has been rebalanced for proper difficulty curve.
- Adjusted several Recobox positions. Some could not be hit with ranged weapons due to floor elevations. Also, some more Recoboxes were removed.
- Deathless reward was adjusted.
- Added a heal ring to floor 8.
- Various other changes/additions.

- Version 1.5+ was made exclusively for Schthack Gamecube as the fog values on Floor 9 were not functional there.
Have fun! <3
Next project (When I ever get to it) will be a far tamer series.
Last edited: