This won't be a comprehensive tutorial for setting up a client, but I think it's worthwhile to have this as a starting point to add to the gaming experience. I took a weekend to put this all together in a more up-to-date fashion since not much has been posted lately on the following subjects in a newbie friendly way. Don't forget to get the Official Blue Burst
manual
, including Gamecube and Dreamcast manuals courtesy of
@redDEAD
. If you don't want to download it from there, you can
go here
too.
Before beginning the process, I'll add some other operating system considerations for both
macOS
and
Linux
for the few who prefer to play this game using
WINE
(WINE Is Not an Emulator). As of May 12, 2020; here's a new
guide
that just came out today, it's for people on weaker or older PC that
@FriendPie
wants to contribute to those that don't have access to newer machines at the moment. There's also
@Spuz
's
post
for preparing low-powered netbooks to run the game, including a link to the infamous Walmart patch.
0. Getting Started
If you're new to the Ephinea Launcher, toggle some options to see what works, and if you're not sure, here's a few useful links to get the game started with a couple of solutions to the usual problems. This is mostly from the #useful-info section of the
Ephinea Discord Server
that anime posted there:
.dll error or server is full error: whitelist your Ephinea installation folder in your antivirus settings. Here's a guide to whitelisting for Windows Defender
[The next link is one step ahead of the curve if you like using scripts.]
[SCRIPT] Automatically whitelist PSO in Windows Defender
Ephinea FAQ
Fix for "Game crashing on ranged attack" bug
Do Photon Blasts Keep Disconnecting You?
Server Commands
!!!!!! New to game? Installing for first time? READ THIS !!!!
PSOBB Program Window Tips
Dotum* Font
* I attached two zip files containing the .ttf files for Dotum to add them into the Settings Editor addon by Ender, which has been updated by Soly recently as of February 2020. Please see section 3 for more information.
1. Colorful Dots on the Map
I found some use in creating my own mapitem.txt from
this News post way over there.
Please copy and paste your own copy of the code provided below in the same folder that has the ephina.dll file in your game's directory, or you can simply download the attached mapitem.txt into your Ephinea folder for the sake of time.
If someone can improve this by getting specific items like Shifta 15 without having Grants Lv15 show up in the same color on the map, I'm interested in updating the code soon. I had to rely on a spoiler full of hex values from
this post
to get my disks mapped out colorfully. I doubt that we can get super specific with untekked weapons like really high % caliburs for a nice new Dark Flow from using this text file, but it's good to know that it's possible if somebody's figured that out.
2. Mods
To find mods in the forum,
click here.
Some notable sound related mods that I like to recommend are
this Mod Bundle for the common.pac file
by
@Save Smokey
,
a link to the PSU and PSOep3 OGG pack
by
@phantasystarved
, a
comically themed sound pack
by
@conenubi701
, and
this really low sounding sound pack
by
@Major Tom
.
If you hate certain aspects of the game that just drive you nuts, here's what I have to ease the situation. There's this
transparent/translucent light-based attack
that makes Grants and Dark Flow special attacks easier to look past, and there's this
removal of fog
that annoys players at the Central Control Area (CCA) in episode 2. Also, I wanted to apply a
blue baranz launcher skin since baranz are blue,
so I went on the jimdo website below to insert that skin with the AFS Manager tool that's on that site. You can also
learn a bit from textures
over here thanks to
@anime
.
But wait there's more! Don't like hearing RAcast stomping all over your parade? There's
this funny mod
by
@Argajag
, and then
this other mod
if you just think
it's time to stop!
Besides, here are the main attractions that I visited to find those mods and other mods:
Univers-PS [EN]
Jimdo Website with more Mods by Kamui S.
Hidden SFX Link in that Jimdo Website
Lastly, I have found
a pro tip from this post
warning users to do this: Make sure to set the language to Custom"in your launcher (upper right corner) prior to installation or some files may be overwritten by the server when launching the game. If your client is automatically updating your language packs against your wishes - like it's causing your English client to use Japanese by accident, you can type some commands in the lobby like /lang 1 to enforce an English patch while /lang 2 to enforce a Japanese patch. Once you go back to the launcher, you should be able to set the langauge setting back to Custom without any issues.
3. Lua Addon Changes
If you need a starting point,
click here to get started on using the bbmod zip file for the addons
since this recent download has the ability to edit fonts in the Settings Editor addon included courtesy of Solybum, aka
@Soly
, and
Elixer70
, aka
@Ender
.
Please paste the contents of the bbmod folder directly into the Ephinea Game Folder. This is part of ★AGGREBEE★'s Guide. Also, here's a recent video of how Rain installed it.
This is the update that I used from
the old addons that I used to link here.
I highly recommend using
Soly's addons
as well, and don't forget to use
this addon for hardcore mode
since you never can be too careful with counting your scape dolls in your inventory these days.
I'll leave my custom addon modifications in a zip file attached
down here
to show you what I have done to add some colors to some of Soly's addons in a zip file called Colorful Addon Modifications.
Before intially posting this, I had to go into sandbox mode to figure out some hex values for some items, and
here's an updated list of items exclusive to Ephinea plus what's included in the accompanying spoiler below.
Some of the items are repeated from the original list, such as
Seasons Shop items,
so be careful not to remove anything that was already edited earlier if you already made those changes to your version of the file. Not much will be changed if you completely overwrite anything from here anyways unless I didn't include something that you have that's also on the most recent list that I haven't discovered yet. The hearts and mag kits were removed from the Seasons Shop due to
reported issues.
Fun fact: You have to grind your skinned weapons and then grind them again after each skin use, including Neutralizier.
If you need help editing any text files, I recommend Notepad++ as mentioned
over here.
Pro Tip: If you accidentally close your Main Menu for the addons, press ` to toggle the Main Menu back on, which is the key right above the tab key on most keyboards.
4. Palettes
Tofuman has this great tool called the PSOBB Palette Manager v1.0.2
that allows one to add an extra 10 buttons while holding Ctrl in the customization process. Without this tool, it's a mess to customize buttons singularly since Tofuman's tool pushes the customized buttons automatically from his program to the client.
Here's how to permanently save your character's changes.
Also, thanks to
@Sassmeister
for
this useful palette swapping technique
. If you don't want to use a Photon Blast, but the back palette has an action that you really want to use, try this out.
Lastly, I want to emphasize that pressing Ctrl + 1 won't activate the intended action from the keyboard directly; however, it will activate that action flawlessly by using a controller instead. For example, using this program to assign 1 for Shifta while assigning Ctrl + 1 as Foie will work as intended via a controller, but if one uses Foie with via the keyboard, it won't do anything.
5. Pad Controls and Keyboard Bindings
Before we begin, I like to share with you what the default controls are from the PSOBB manual for your reference. If for whatever reason, you want to remove the Ctrl key or some other key on the keyboard to not do what the game already has it set up to do, you can benefit from using Soly's
PSOBB Input Map
program.
I have a PS3 controller, and I use SCP's software
at the following post
to allow me to play with this controller, but these are not official drivers. I have not tried the official drivers provided by
Playstation Now
after reading
this guide
, but it's there if that's already available in your PC.
I am able to press the extra 10 buttons at the bottom of the screen without having to use my keyboard with
Antimicro
, which can configure my keyboard buttons 0-9 to unused buttons on my PS3 controller. As with any program that involves working with psobb.exe, please run as administrator before launching the game. If you want to try some advanced features like Toggle and Turbo, please click a button to select a key on the keyboard window, press a check, and even click on Advanced for more options.
If you're using something different and I find out about it, I'll be back to add to this post if something new shows up that is worth referencing on here. In the meantime,
have fun with these suggestions
by others that were willing to share their contributions publicly.
Here are my suggestions for setting up an account with the controller configurations and the client options.
Starting off this short series of paragraphs of progams that I don't use, I like to leave a link to a guide for
XInput Plus
thanks to
a recent outdated release of the bbmod addons
.
For other folks that aren't using Antimicro,
here's a download to get Xpadder,
which works on almost every controller imaginable. Also, I'll leave this great resource,
Pinnacle Game Profiler,
with one
warning linked here
that should lead you to
this link
eventually.
If you use a PS4 controller, use
DS4Windows.
If you're up for some Gamecube controller thrills, maybe
this adapter
is right for you. I haven't tried it myself, but it's out there. As for Gamecube controller drivers, maybe
this driver
works, but I haven't tried it yet. If you're out of luck on guides though, here's
a guide from the Dolphin Emulator wiki
that can give you some other ideas. If you made it this far,
take a look at this
to set up some buttons in the game's pad button configuration menu to make it feel more like the Gamecube experience.
Also, you can use
this guide
by
@RedKing
to set up a Steam gaming experience with a Steam Gamepad, and don't forget to check this
thread
out by
@Xira
if you want some icons for Ephinea PSOBB on Steam.
6. Sandbox Mode Tips and Tricks
How do I make sandbox mode useful? Easy, you
create and login with a sandbox mode account here
and then you load as an administrator
Soly's Item Maker.
I shouldn't have to remind y'all that using these tools is prohibited with normal mode and hardcore mode accounts, especially seasons mode accounts! If you don't think that the logs will catch you, then that's on you is all I'm saying.
Maybe you really want to know how useless a Blizzard ES Needle really is, or you just don't know how cool some other gear is. This is the perfect mode for you try just about everything that's possible in the game. If you think you can do it, it's probably a good time to run that idea through the sandbox mode occasionally.
Oh, and this is a general rule that I like to mention since this helped me launch the Item Maker properly. There is a way to always have the program run as administrator if the settings need to be adjusted to do that since, by default, it won't ask for administrator privileges as is the case for Soly's Item Maker when running that program in Sandbox mode.
Right click on the Item Maker, and click on Properties. I'll show what to select based on the image that I have attached here too, but here's the explanation anyways. Once a Properties window appears, there is a Compatibility tab that shows where to have the check mark necessary to have the Run As Administrator window pop up every time the program attempts to open. Fill the box with that check mark, and press Ok to save that setting. If the screen turns dim while playing PSOBB
come over to this post
to make sure that the game doesn't crash often.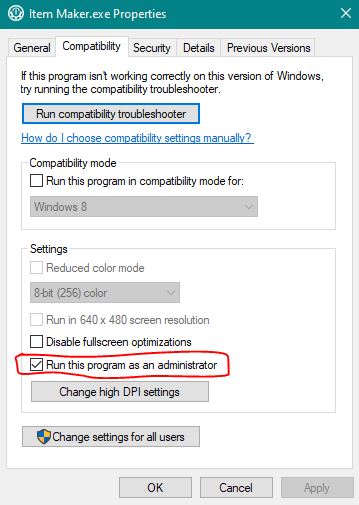 7. Special Effects (To-Do Task for Me: 03/27/2020)
I thought about using some special effects besides the typical mods and skins, but I haven't made time for them yet, so here's what I do have as homework for the time being.
ZabaZu's ReShade for PSOBB
Hello everyone, I'm new to this forum and server (loving it so far). I made a ReShade preset for PSOBB, which has an extensive post on the Ultima forums, so if it's allowed (didn't see it in the rules), here's a link to that post.
https://www.phantasystaronline.net/forum/index.php?/topic/27191-reshade-for-psobb-20/
If linking to another forum is frowned upon, I can redo the post here, however it is substantially easier to maintain accurately from one source. [Main website is in
here
.]
Matt's
PSOBB Post-Processing
Taken from here:
http://www.schtserv.com/forum/viewtopic ... 35&t=85295
(which is now dead...)
Credit for this software goes to Black Emerald Team (psobb.ru) and MonsterHunterFan.
Download:
http://files.pioneer2.net/psobb_enb.zip
(password: pioneer2)
MHF's HDR V2 file:
http://files.pioneer2.net/effect.txt
PSOBB ENB is a post-processing effect software that improves the game's graphical quality with special effects (Such as bloom, blur, reflection bump, and anything the user can write with the effect.txt file). It can be used in windowed or fullscreen and doesn't mess with skins.
Last edited: